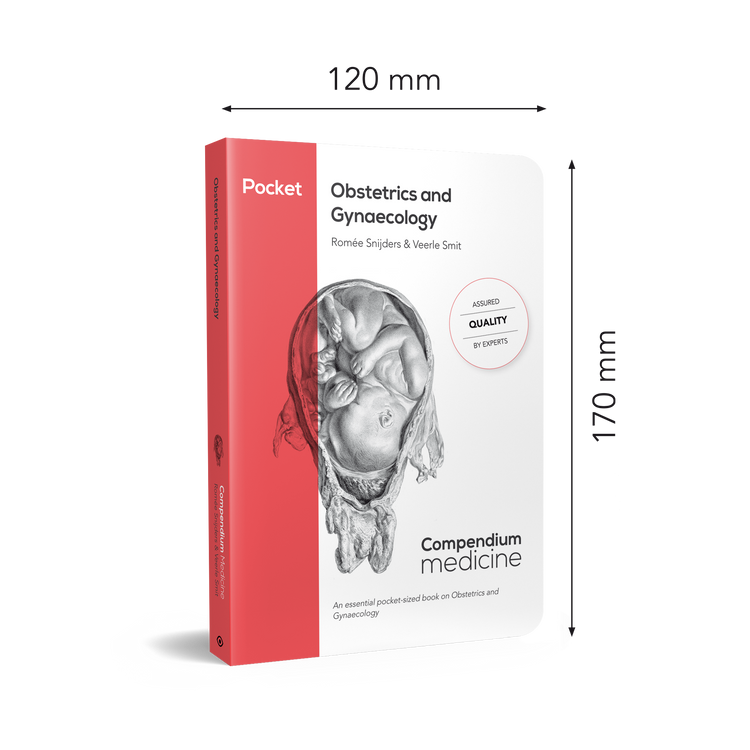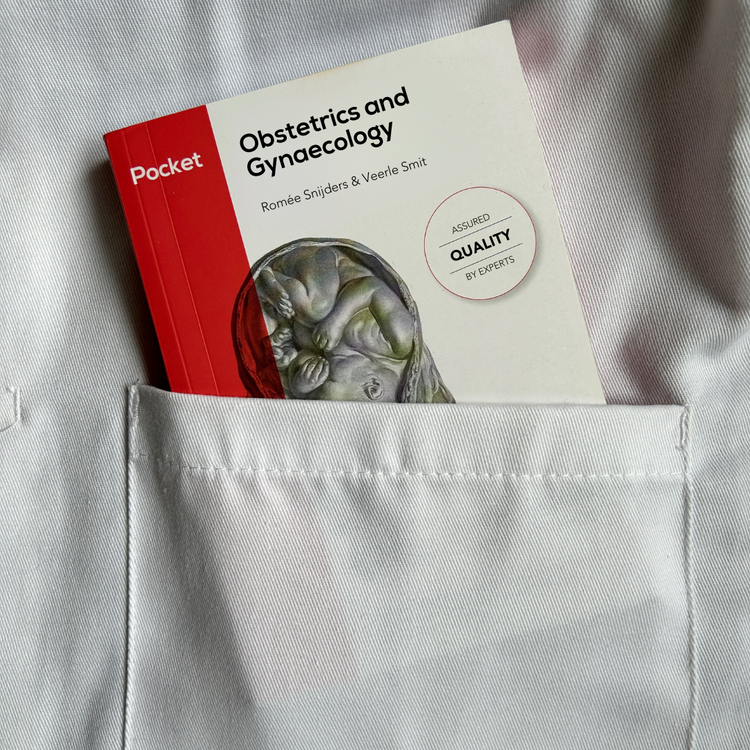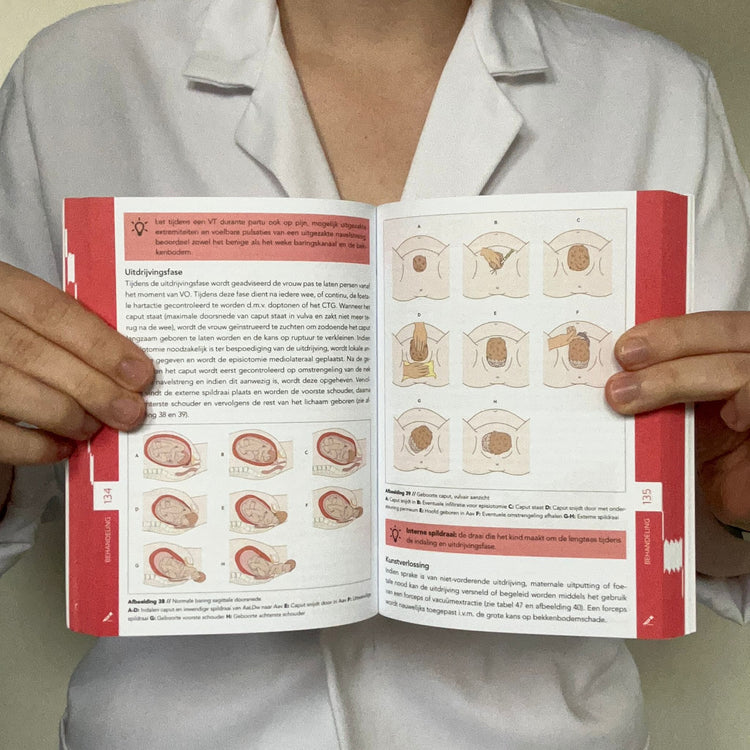 ✨ Kickstart this project and enjoy a 45% early-bird discount. 92 pockets left at this price!
A compact clinical guide for healthcare professionals in obstetrics and gynaecology. It covers essential physiological and anatomical foundations, key gynaecological conditions, and aspects of normal physiology and pathology encountered during pregnancy. It addresses about 120 gynaecological conditions, including fertility, pregnancy, and oncology.

📚 Get bundle discounts & save on shipping costs:
- 3+ pockets: additional 10% off
- 5+ pockets: additional 15% off
- 10+ pockets: additional 20% off
Product details

- Language: English

- Written and updated according to European guidelines

- ISBN: 9789083374017

- Print length: 315 pages

- Edition: first (2024)

- Dimensions: 170 mm x 120 mm

- The pocket fits in your white coat!

- We expect to ship it to you in July 2024.
Successfully added to cart
Pocket Obstetrics and Gynaecology (45% pre-order discount)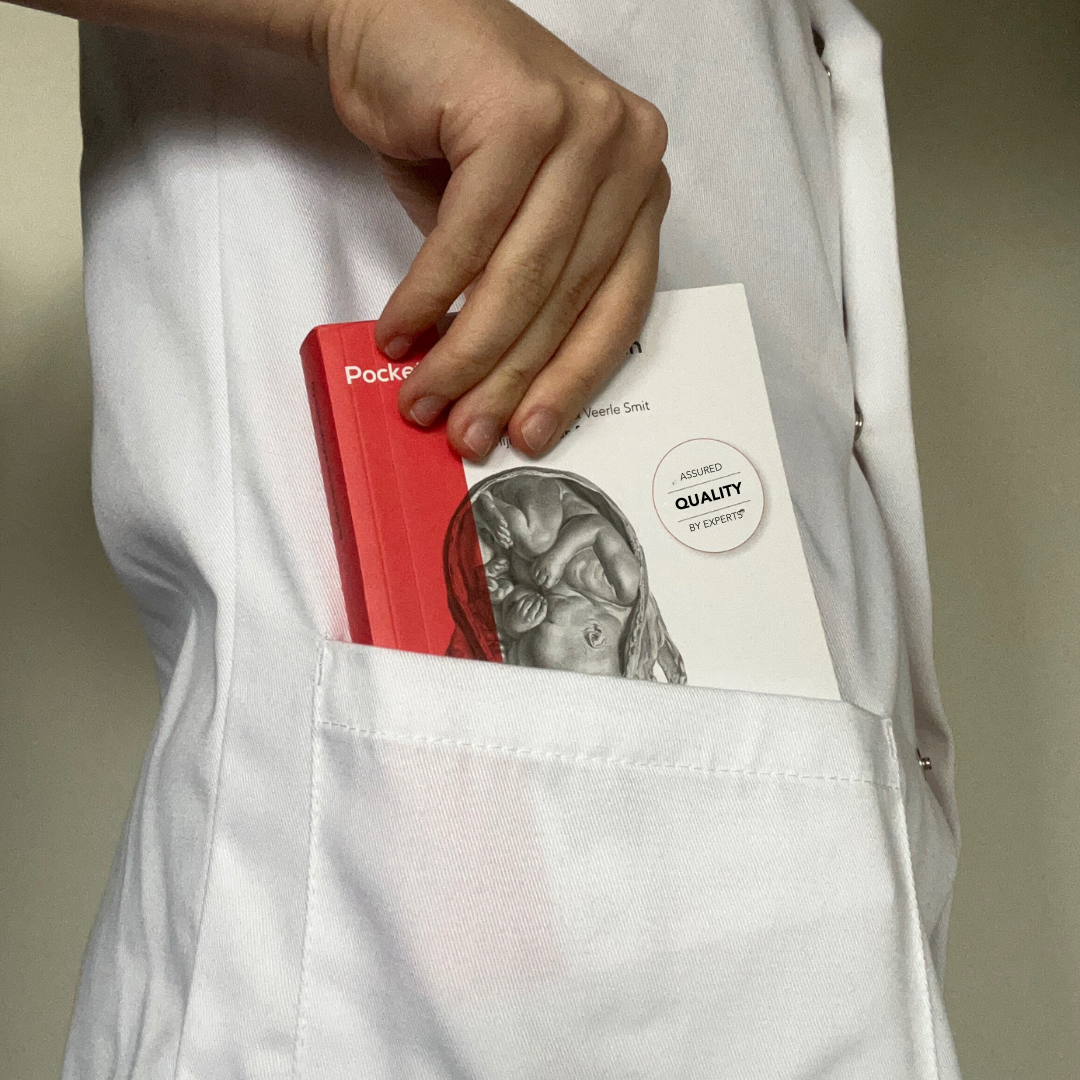 Seeking a portable ob-gyn guide?
Topics covered include pharmacotherapy, obstetric and gynaecological examinations, diagnostics, fertility treatments, gynaecological interventions, and a step-by-step description of significant phases of giving birth. Additionally, obstetric and gynaecological conditions are explained per clinical phase (e.g. history taking, physical examination, and available treatment options).
Help us kickstart this project!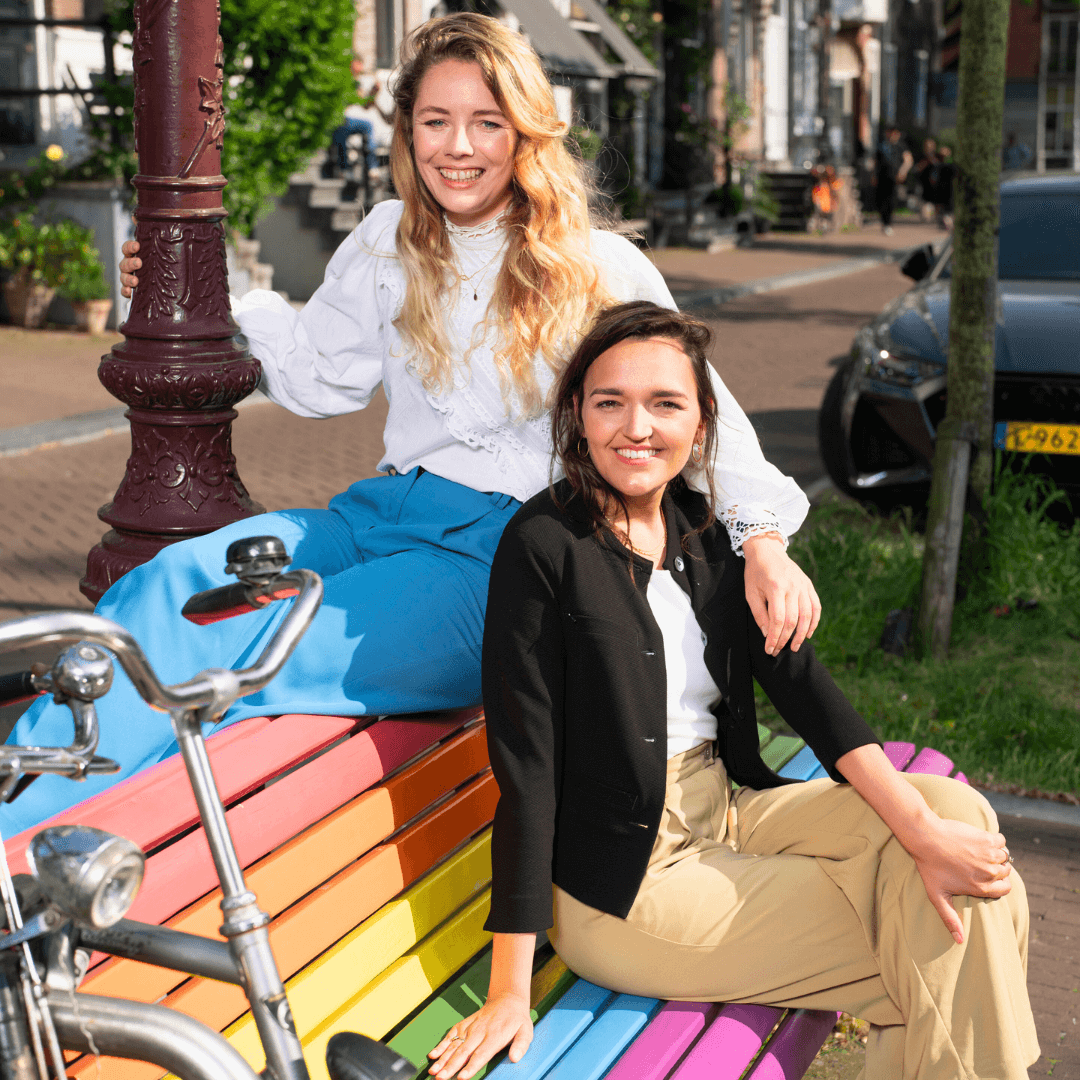 The starting point of our journey
Over the years, we've created 18 bestselling pockets in Dutch. We're now bringing Compendium to the world with our English books. Are you ready for a global overview of medical knowledge?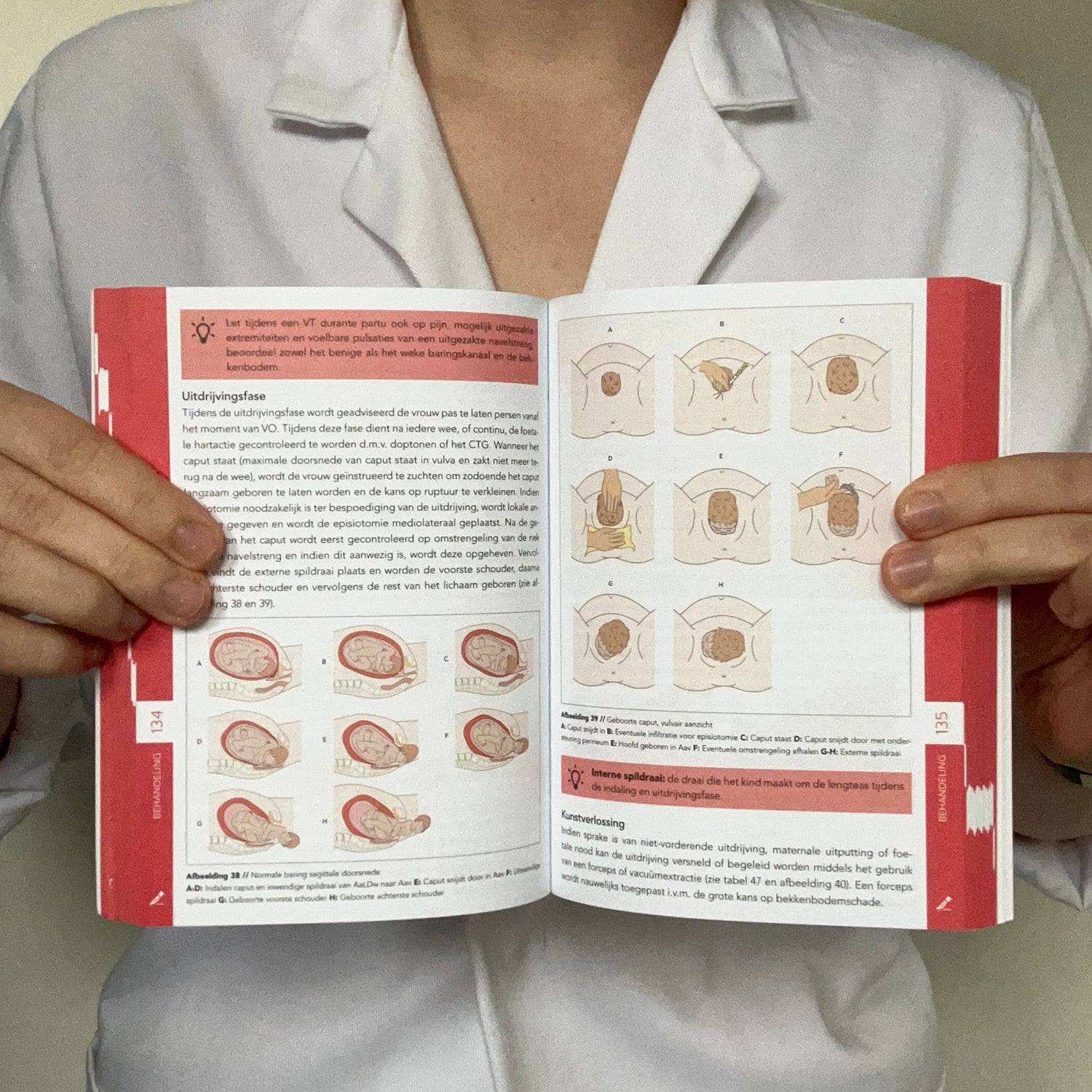 Crossing borders with our bestseller
We're thrilled to work on our fourth English book. The Obstetrics and Gynaecology pocket has proven to be a favourite among readers in the Netherlands and Belgium, and we look forward to sharing it with an international audience.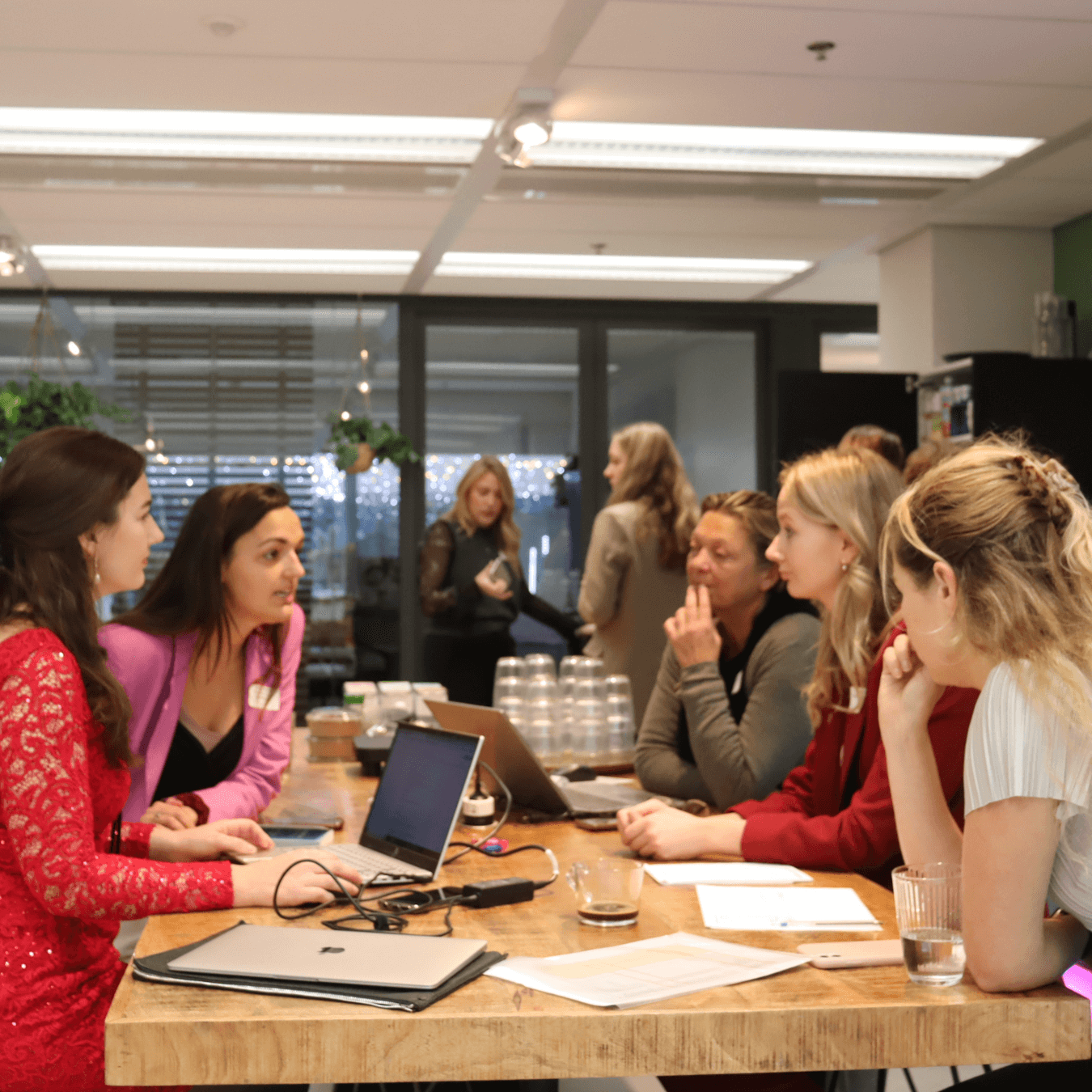 A team effort worth supporting!
We're working on the pocket together with a passionate team of students and experienced doctors. Join our mission to make medical knowledge accessible worldwide!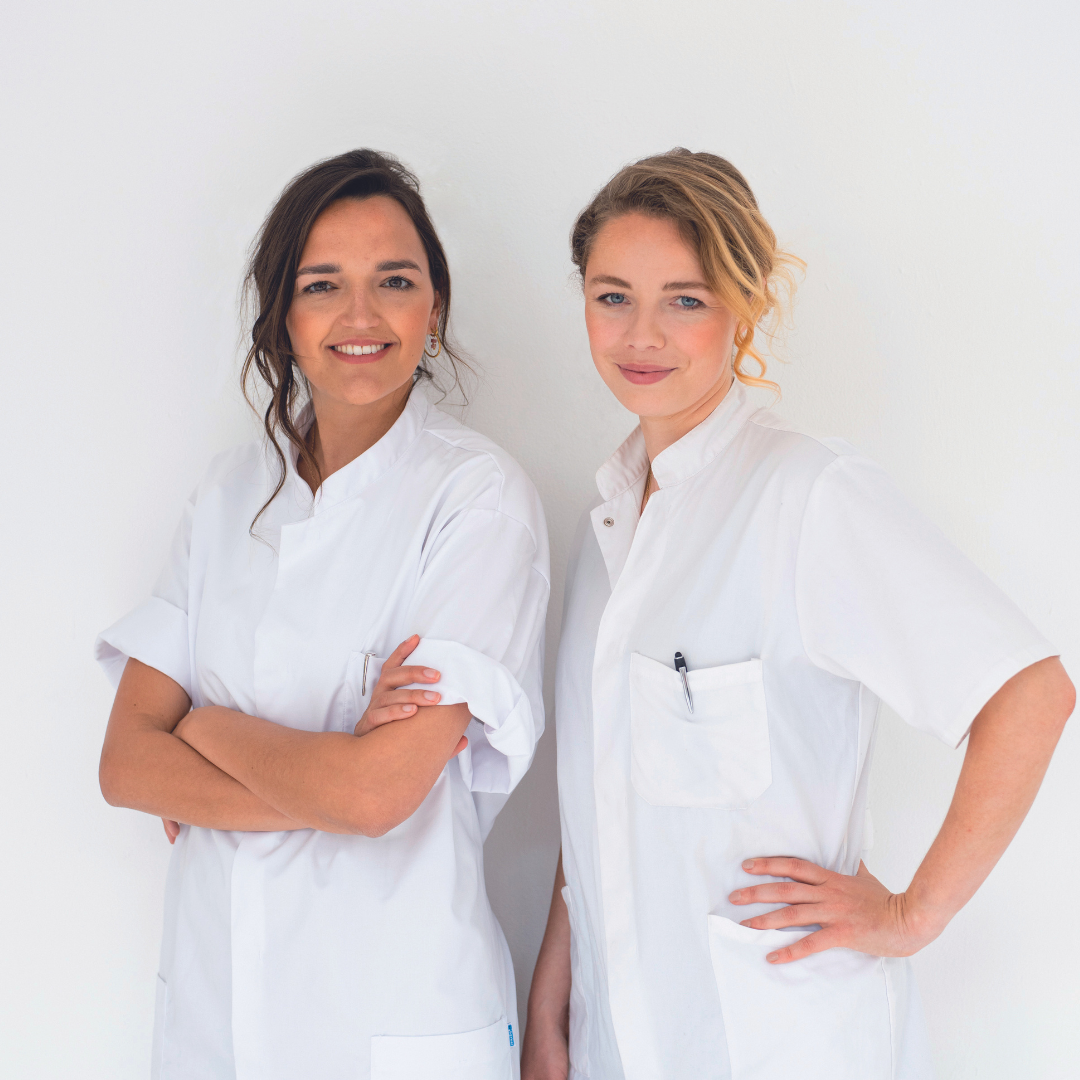 A message from the founders:
"Your support through pre-ordering makes a significant impact! Plus, you'll be one of the first to explore this valuable resource."
- Romée Snijders & Veerle Smit
Contents
Get a glimpse inside! Find various aspects of Obstetrics and Gynaecology:
Obstetric and gynaecological examinations
Gynaecological interventions
A step-by-step description of phases of giving birth
Please note that the video features the Dutch version of the book, as we're currently working on the English version. You will receive the English version!
In one glance: clear images
With thanks to our medical illustrators.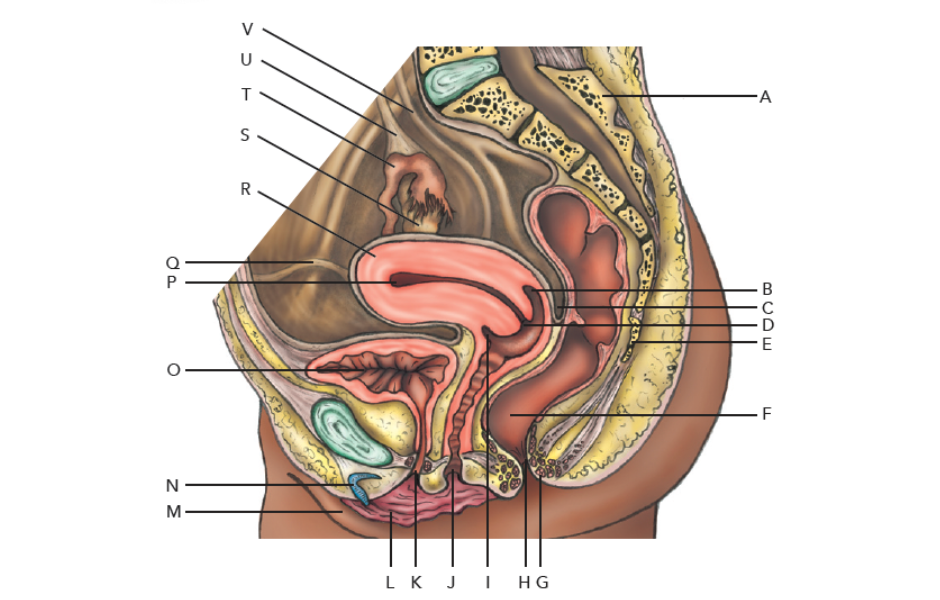 Coronal section of internal genitalia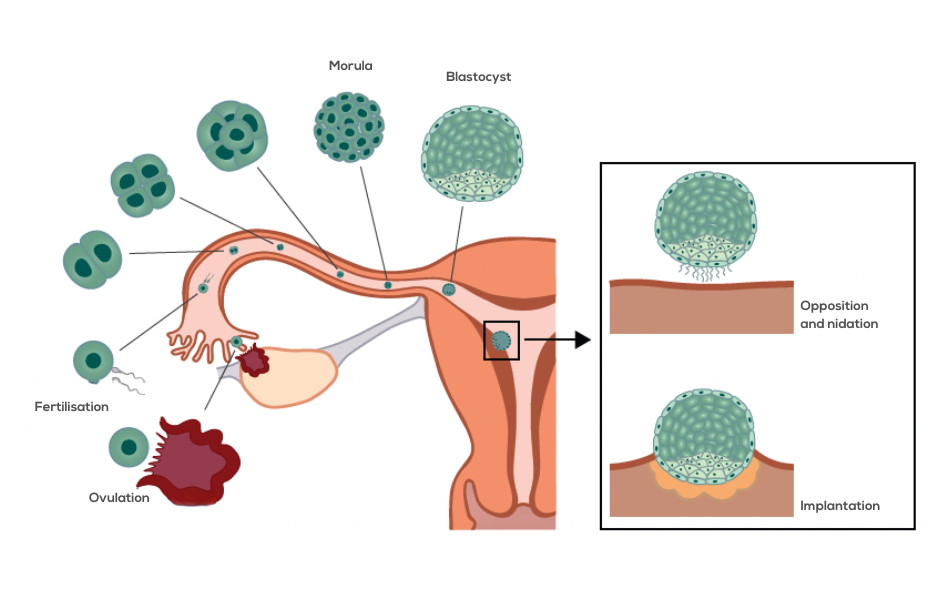 From ovulation to implantation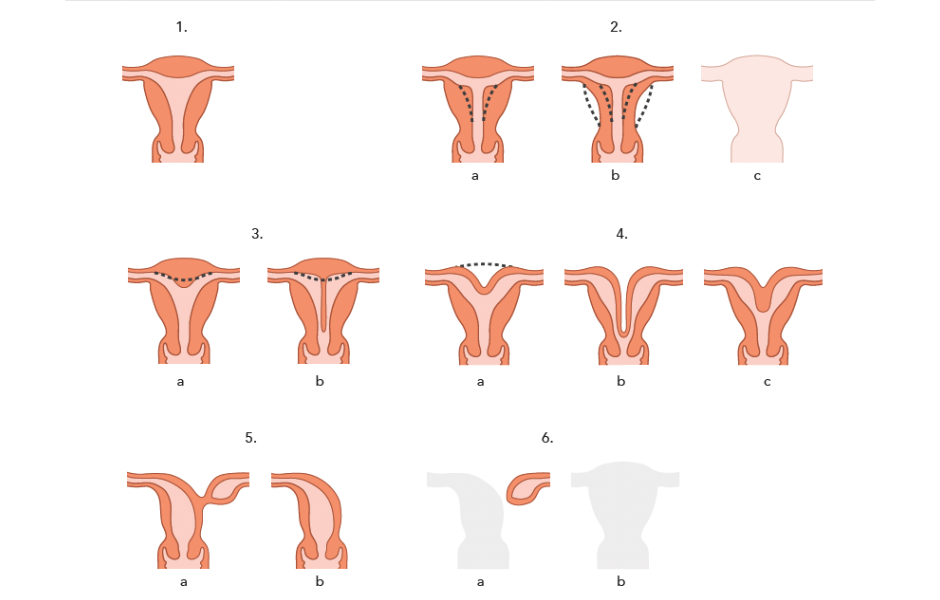 Overview of uterine anomalies
Solid structure
Visual, to the point and concise
- Clinical focus
- Convenient index

Compendium Method ©
- Straightforward tables
- Illustrations for every medical condition
- Icons, many figures and useful mnemonics
- Quality ensured by medical specialists
- No unnecessary words
Practical chapters
- ATLS
- Anatomy
- Physiology
- Embryology - History taking
- Physical examination
- Additional diagnostics
- Obstetric and gynaecological interventions
- Lab interpretation
- Pharmacotherapy
- Differential diagnoses
- Obstetric and gynaecological conditions
- Clinical reasoning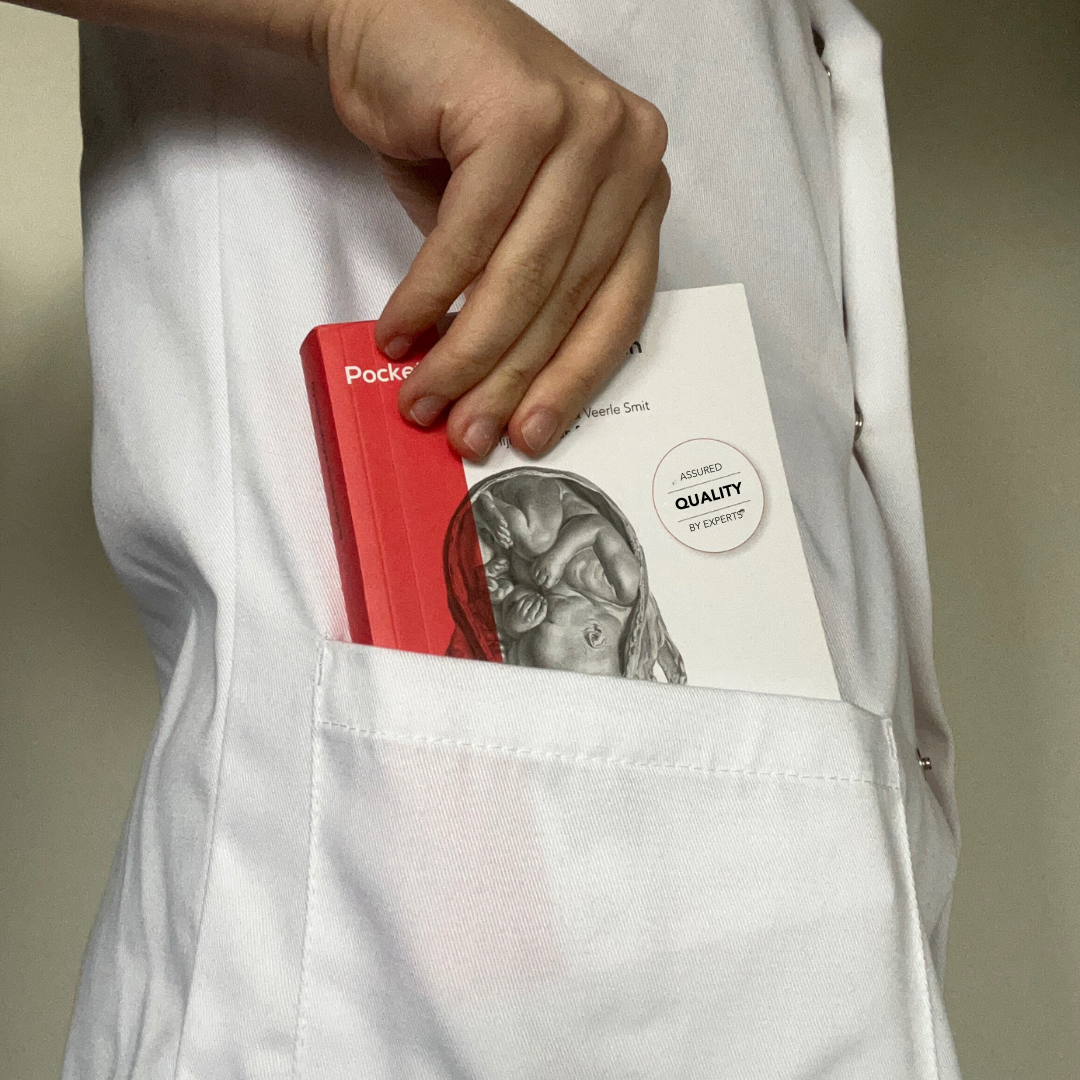 A pocket-sized clinical handbook for healthcare professionals
Team
A team of students and doctors share the passion to bring healthcare together and make medicine clear and accessible worldwide!
Romée Snijders
Editor-in-chief
MD, PhD candidate, Founder Compendium Medicine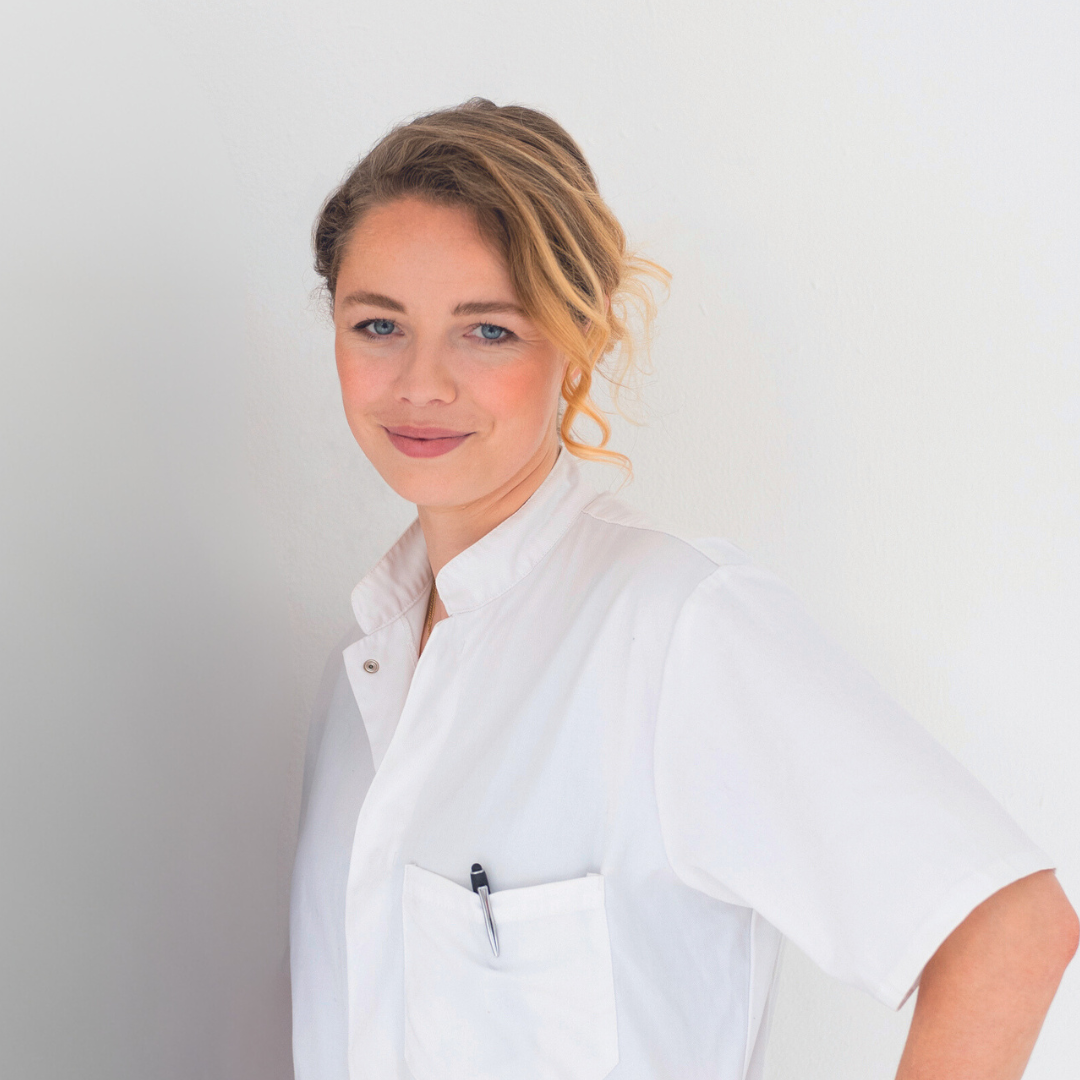 Veerle Smit
Editor-in-chief
MD, Founder Compendium Medicine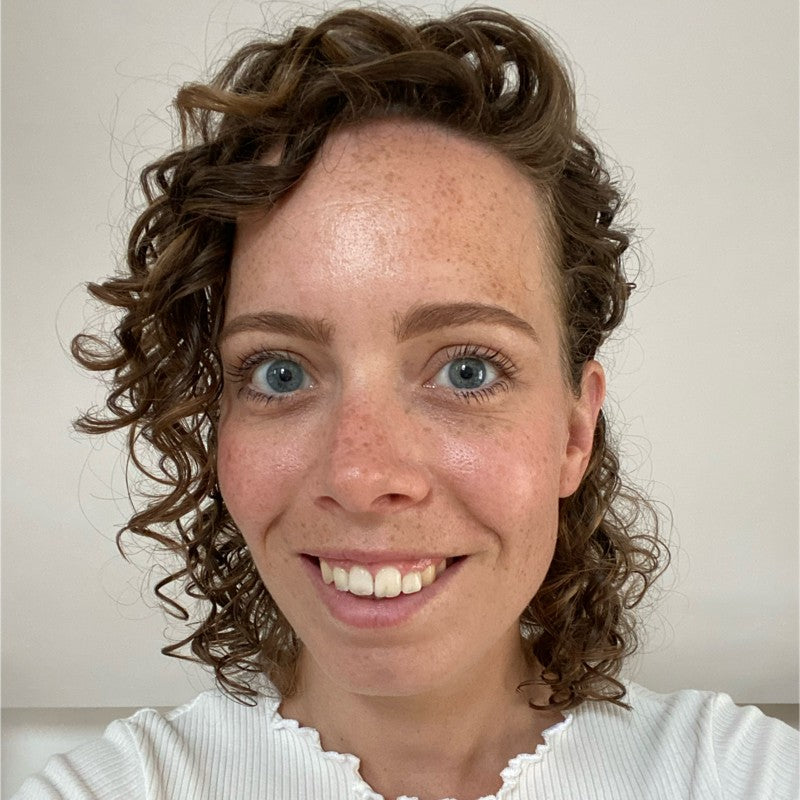 Maaike van Hoesel
Editor and Author
Resident Obstetrics and Gynaecology at University Medical Center Groningen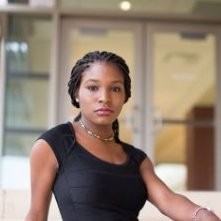 Sherdina Romney
Author
Student Selective Utrecht Medical Master (SUMMA)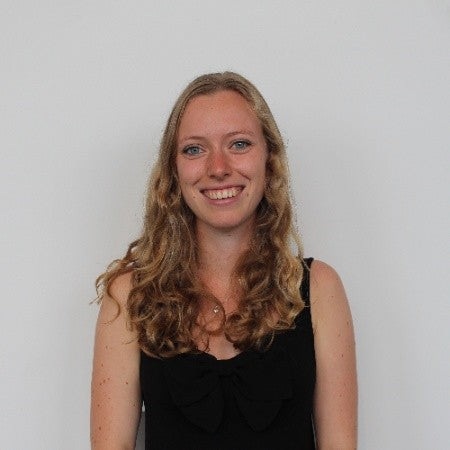 Nathasja van Leeuwen
Author
Medical Doctor at St. Joseph Hospital Kagondo
Obstetrics and Gynaecology pocket FAQ
The pocket's production is guided by the collective effort of students, doctors, and a team of over 10 specialists, including gynaecologists.

The quality is ensured by a team of medical specialists who supervised and revised the text written by medical students.

You can use the pocket during your everyday work.

This book is written for a diverse range of readers, including medical students during their rotations, residents, and potentially medical specialists who are not specialised in obstetrics and gynaecology and wish to refresh their knowledge.

The supervising team consists of a broad group of medical doctors, part of which is specialised in gynaecology, and a part of which is in charge of readability and clinical applicability. In that way, we can ensure the best medical quality of the pocket while keeping it user-friendly!

The guidelines in this book are written and updated according to European guidelines.
Quality guaranteed by medical specialists
Kelly Stevens
Specialist
Gynaecologist at Ghent University Hospital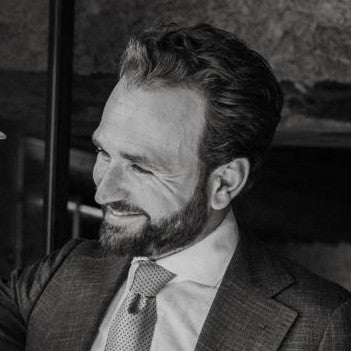 Drs. A.W. Kastelein
Specialist
Resident Gynaecology at Amsterdam UMC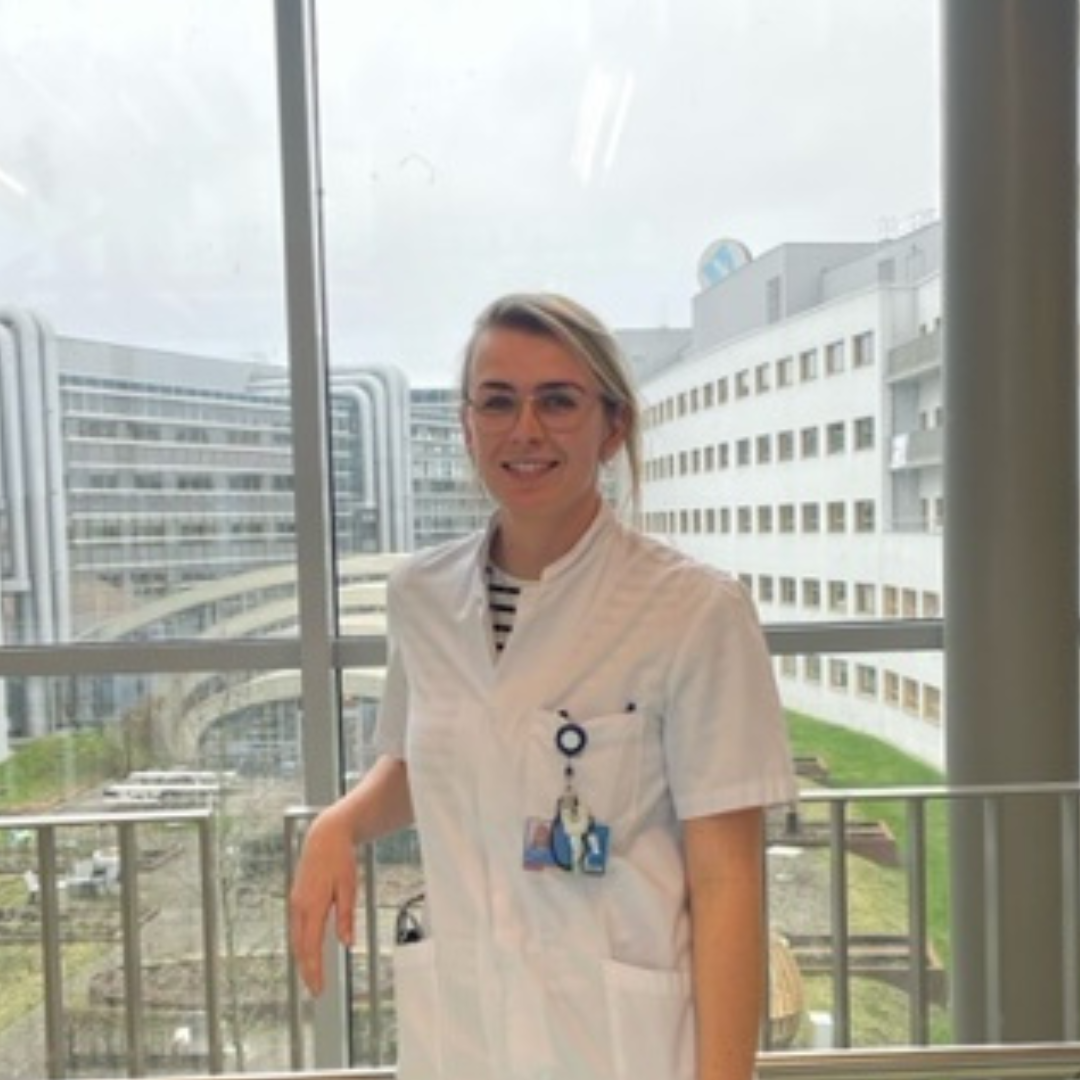 Carlijn Veldman
Sounding board
MD, Resident in Pulmonary Medicine
Daan Pijs
Sounding board
Medicine Graduate Entry Program (ZIGMA) student & Project Manager at the Dutch Research Council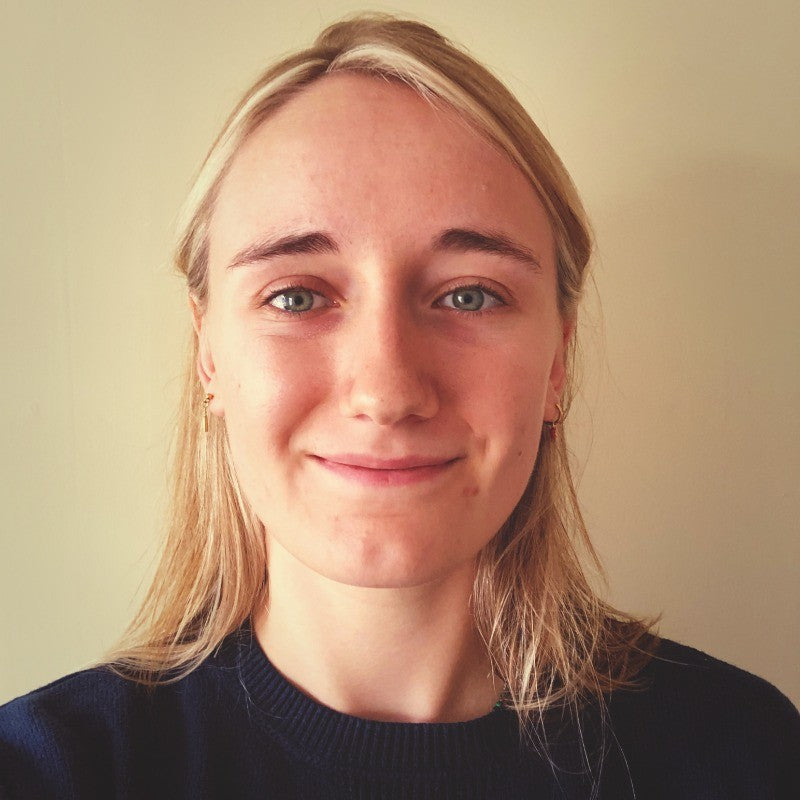 Marijke Dorhout Mees
Sounding board
Medical student, Clinical Nursing Supporter - Pediatric Intensive Care Unit at UMC Amsterdam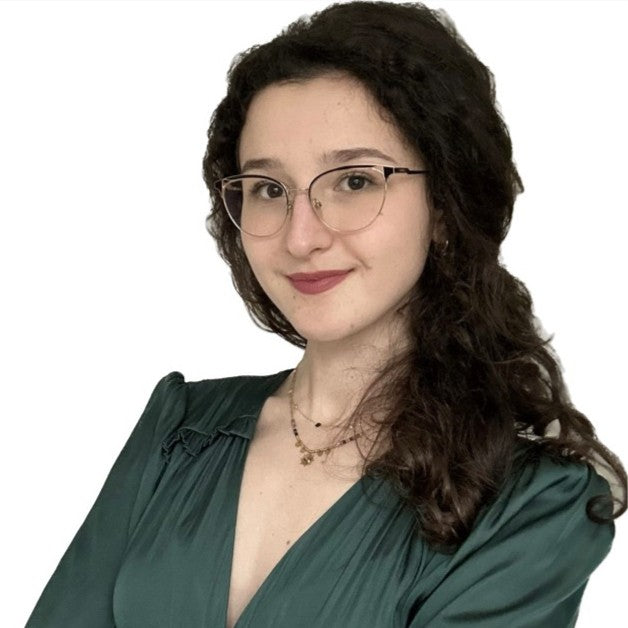 Lia Bica
Sounding board
Medical student, Research assistant Cardiovascular Research Institute Maastricht - Vascular Surgery MUMC+
Drs. L.G.H. Cornelissen
Specialist
Catharina Hospital in Eindhoven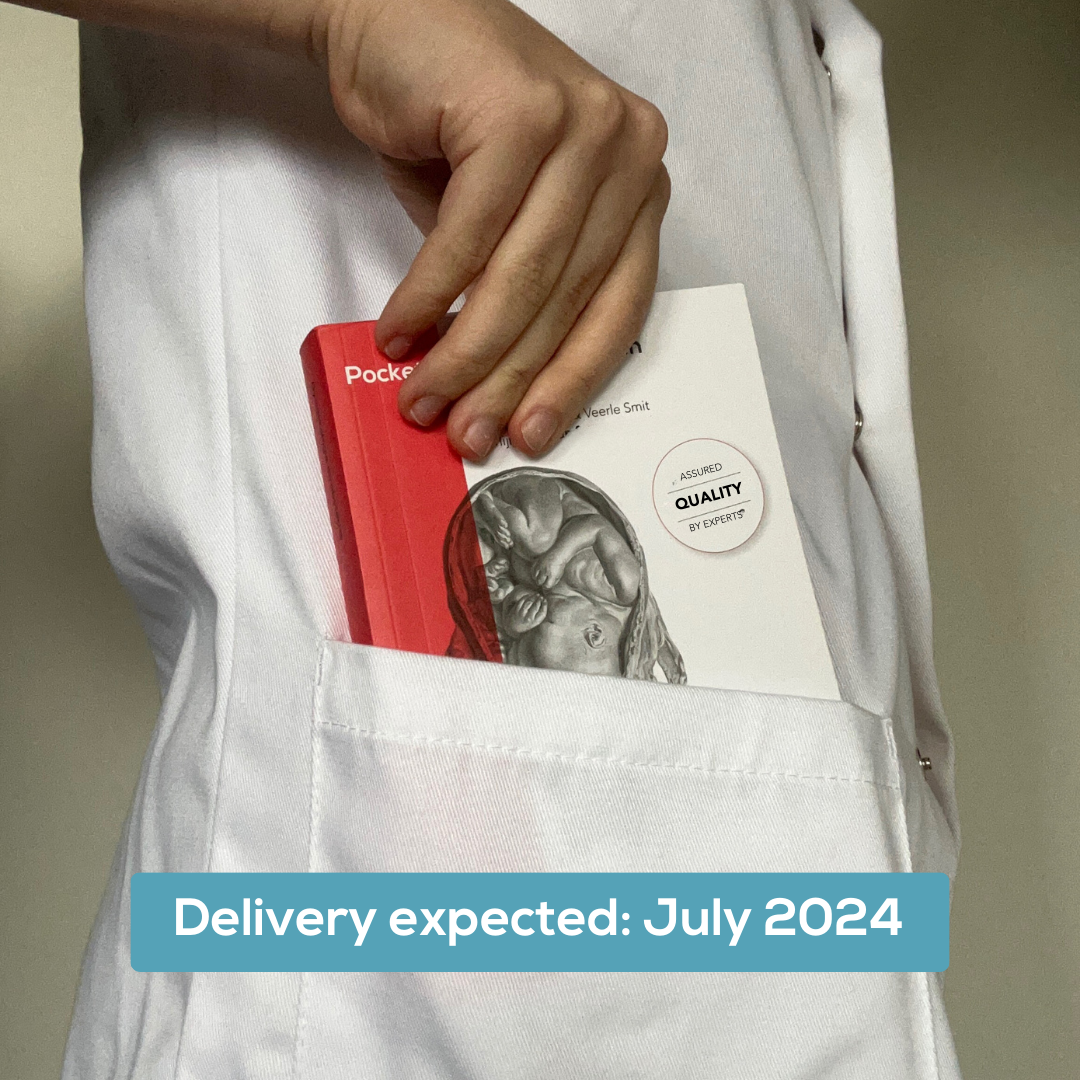 Why order the pocket Obstetrics and Gynaecology now?
Receive a limited 45% early-bird discount
Be among the first to receive the pocket
Contribute to our mission of making medical knowledge accessible worldwide
Get the opportunity to join our rewards programme as an affiliate member
✅ 100% Visual
Through icons, diagrams, tables & images
✅ 100% Quality
Ensured by medical specialists
Supporting us by pre-ordering the Obstetrics and Gynaecology pocket is not just about acquiring a valuable medical resource; it's about contributing to a mission. Our mission is to make essential medical knowledge accessible to medical students and professionals worldwide. By supporting us, you're not only investing in your own education or practice but also helping us achieve this global goal.

Yes, by pre-ordering the pocket, you are guaranteed to receive a copy of the Obstetrics and Gynaecology pocket once it's completed. Our early customers are top priority, and your support ensures you'll be among the first to have access to this valuable resource.

The pricing for the Obstetrics and Gynaecology pocket is designed to reward early supporters. We offer higher discount percentages the earlier you place your order.

We ship to almost every country in the world. If you're unable to complete your order, simply send us an email. We will be more than happy to assist you and arrange shipping to your location. You will receive the discount that applies at the time you email us.

We are currently working on the pocket, we expect to ship the pocket to you in July 2024.
Team up and save together!
📦 One shipping fee for your entire order
📚 Buy more pockets, get an additional bundle discounts