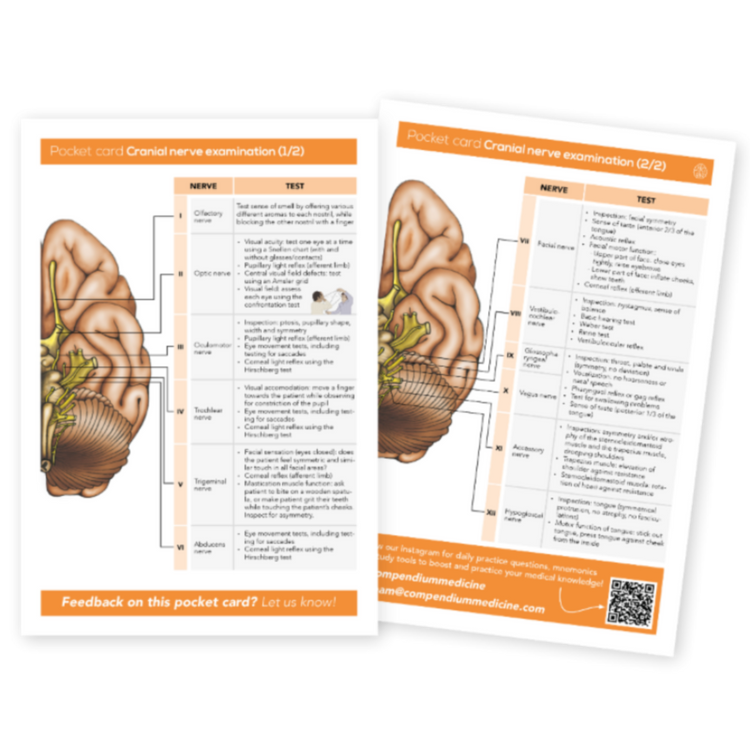 We proudly present our Neurology pocket card! This compact and portable card covers the essential components of a cranial nerve examination.
Our Neurology Pocket Card is a digital product that you can access and print easily. After purchase, you will receive a PDF file in your mailbox that you can print yourself and take with you during your shift at the hospital.
Successfully added to cart

Neurology Pocket Card
This Neurology pocket card is designed to be easy to use and understand, providing you with the most useful Neurologic information you need to know during your shift or rotation. A quick and easy reference, right at your fingertips. 
Buy now and access the Neurology Pocket Card, available exclusively on the Compendium Medicine website. The card will be delivered to your mailbox in PDF format, ready to print and take with you wherever you go.
Download the first pocket card for free!
We made part one of this pocket card available as a free download. This pocket card covers the essential components of a neurologic examination, including dermatomes and peripheral nerves.